Welcome to the Pie Throw Fundraising page of
Ron Millos (Teck Corporate on behalf of Dr. Bruce Vallance)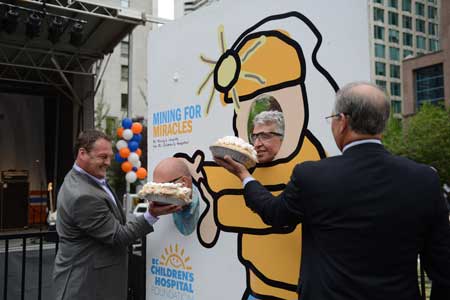 Help Me Help Sick Kids in BC
Welcome to my fundraising page for the 17th Annual Celebrity Pie Throw, the annual Mining for Miracles event in support of BC Children's Hospital Foundation taking place on May 23, 2019 at the Vancouver Art Gallery.
I've participated in this event for many years in varying ways because it is such a great cause. This year, I am raising funds for Dr. Bruce Vallance, who is in a head to head fund raising battle with little Avery Carpenter, the 2019 BC's Children's Hospital Miracle Weekend Champion Child. Whoever raises the most money gets to throw a pie at the loser.
As a betting man, I suspect that without your help, Dr. Vallance is likely to get his butt kicked in this contest as most people will prefer to support that wonderful little girl. So please, dig deep and support my fund raising efforts so Dr. Vallance can hold his head up good and high while taking a pie in the face.
Thank you very much and I really appreciate your support.
Ron
Thank-You Scroll
From Susan Doricic

in Support of Ron Millos

$100.00
From Joyce Ke

in Support of Ron Millos

$500.00
From Michael Buchanan

in Support of Ron Millos

$20.00
From Anonymous

in Support of Ron Millos

$2,000.00
From Alex Christopher

in Support of Ron Millos

From Chris Stannell

in Support of Ron Millos

$15,000.00
From Anonymous

in Support of Ron Millos

From Zoneeta Sinuff

in Support of Ron Millos

$300.00
From Anonymous

in Support of Ron Millos

$2,500.00
From TD Securities

in Support of Ron Millos

$150.00
From Andrew Buddle

in Support of Ron Millos

$250.00
From Jim Utley

in Support of Ron Millos

$2,000.00
From BMO Capital Markets

in Support of Ron Millos

$100.00
From Anonymous

in Support of Ron Millos

$1,000.00
From Karla Mills

in Support of Ron Millos

$100.00
From Estela Frias

in Support of Ron Millos

$100.00
From Yu-Hui Kiang

in Support of Ron Millos

$1,000.00
From SMS Equipment Inc.

in Support of Ron Millos

$100.00
From Dean and Angie Mackie

in Support of Ron Millos

$100.00
From Anonymous

in Support of Ron Millos

$50.00
From Ellen Lai

in Support of Ron Millos

$50.00
From Nicole Breuls

in Support of Ron Millos

$250.00
From jonathan mckinney

in Support of Ron Millos

From David Thompson

in Support of Ron Millos

$50.00
From Hongwei Yang

in Support of Ron Millos

$250.00
From Amanda Robinson

in Support of Ron Millos

From MARK PLATT

in Support of Ron Millos

$200.00
From Sepanta Dorri

in Support of Ron Millos

$100.00
From Brendan Green

in Support of Ron Millos

$300.00
From Chad Hewson

in Support of Ron Millos

From Alannah Cervenko

in Support of Ron Millos

$500.00
From Anonymous

in Support of Ron Millos

From Troy Jones

in Support of Ron Millos

$250.00
From Rui Pontes

in Support of Ron Millos

$200.00
From Alireza Entesari

in Support of Ron Millos

$250.00
From Anonymous

in Support of Ron Millos

$100.00
From Lorilee Thorsteinson

in Support of Ron Millos

$100.00
From Orest Wowkodaw

in Support of Ron Millos

$500.00
From Anne Chalmers

in Support of Ron Millos

$100.00
From Rajinder Sahota

in Support of Ron Millos

From Anonymous

in Support of Ron Millos

$50.00
From Janice Holliday Mahood

in Support of Ron Millos

$500.00
From Martin Lapointe

in Support of Ron Millos

$100.00
From PK Chan

in Support of Ron Millos

$100.00
From Leslie Halicki

in Support of Ron Millos

From Sam Lee

in Support of Ron Millos

$200.00
From Peter Waignein

in Support of Ron Millos

$50.00
From Sahar Sharafzadeh

in Support of Ron Millos

$50.00
From Rebecca Bianchini

in Support of Ron Millos

From Anonymous

in Support of Ron Millos

$100.00
From Steve McNally

in Support of Ron Millos

$100.00
From Ilona Lo

in Support of Ron Millos

$250.00
From Travis and Crystal Prystai

in Support of Ron Millos

$100.00
From Eric McKay

in Support of Ron Millos

$20.00
From Terri Burton

in Support of Ron Millos

From Wayne Lim

in Support of Ron Millos

$100.00
From Alexander Komnatsky

in Support of Ron Millos

$250.00
From Josip Pismestrovic

in Support of Ron Millos

From Don Smith

in Support of Ron Millos

$500.00
From Adrian King

in Support of Ron Millos

From Tanya McCarthy

in Support of Ron Millos

$1,000.00
From Anonymous

in Support of Ron Millos

From Thomas Cheung

in Support of Ron Millos

$250.00
From Mark Patterson

in Support of Ron Millos

$100.00
From Herlinda Gonzalez

in Support of Ron Millos

$2,500.00
From Andrew Golding

in Support of Ron Millos

$200.00
From Ross Pritchard

in Support of Ron Millos

$100.00
From Bill Larmour

in Support of Ron Millos

$250.00
From Kevin Chubb

in Support of Ron Millos

$100.00
From Anonymous

in Support of Ron Millos

$100.00
From Keith Mayhew

in Support of Ron Millos

$500.00
From Tracey McVicar

in Support of Ron Millos

$100.00
From Caroline Wright

in Support of Ron Millos

$50.00
From Bev Wilson

in Support of Ron Millos

$1,000.00
From Doug Powrie

in Support of Ron Millos

$100.00
From Una Power

in Support of Ron Millos

$100.00
From James LeLievre

in Support of Ron Millos

From Queenie Chou

in Support of Ron Millos

$1,500.00
From Dean McDonald

in Support of Ron Millos

$100.00
From Mark Newman

in Support of Ron Millos

$50.00
From Yoshimi Spurgeon

in Support of Ron Millos

$25.00
From Joanie Anderson

in Support of Ron Millos

$100.00
From Scott Charles

in Support of Ron Millos

From Ai Whelan

in Support of Ron Millos

$100.00
From Christiaan Terblanche

in Support of Ron Millos

$100.00
From Honza Catchpole

in Support of Ron Millos

$100.00
From Richard Au

in Support of Ron Millos

$100.00
From Lori Rozali

in Support of Ron Millos

$500.00
From Celina Sookachoff

in Support of Ron Millos

$50.00
From Martin Dreyer

in Support of Ron Millos

$100.00
From KRISHNAN IYER

in Support of Ron Millos

$150.00
From Navroz Hirji

in Support of Ron Millos

$5.00
From Rishab Lamba

in Support of Ron Millos

$100.00
From Tina Sood

in Support of Ron Millos

$100.00
From Lindsay Davidson

in Support of Ron Millos

$100.00
From Kimberly H

in Support of Ron Millos

$5,000.00
From Jack Millos

in Support of Dr. Vallance