Welcome to the Fundraising page of
The Eva-Bea Page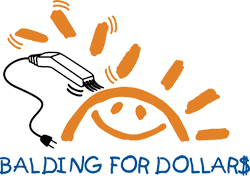 Thank you for supporting Balding for Dollars.
Your contribution is greatly appreciated.
Beatrice is Back to Bravely Bald Again and Evalyn is joining in! She has regrown her hair and hopes to raise money, donate her locks and encourage other children to support families with children with cancer. As a sibling of a childhood cancer survivor, she knows how important these things are!
Beatrice is joining the amazing Bands BBQ Beer and Balding Team and this time around she will be joined by her courageous little sister, Evalyn.
Watch this space for new photos and a fun game of "Guess how long my hair is!"
Thank-You Scroll
From Jill McDermid

in Support of

$100.00
From Pacific Industrial Solutions

in Support of The Eva-Bea Page

From Anon Anon

in Support of

From Jeff Jeff

in Support of

From Tony Tony

in Support of

From Lori Fennessy

in Support of The Eva-Bea Page

From Sarah Howes

in Support of

From Lucie Legg

in Support of

$25.00
From Christina Jones

in Support of The Eva-Bea Page

From Sarah Howes

in Support of

From Abbie Evans

in Support of

$30.00
From Polly FORSTER

in Support of Beatrice Evans

From Ann Stockwell

in Support of Bea & Eva The Eva-Bea Page

$100.00
From Dave and Marsha Nicol

in Support of Beatrice Evans

$50.00
From Bernie Ryan

in Support of Evalyn Evans

$50.00
From Bernie Ryan

in Support of Beatrice Evans

From Emma Evans

in Support of Bea & Eva The Eva-Bea Page