Welcome to the Fundraising page of
Nat and Kris' Mile-Swim-a-thon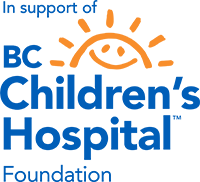 "We are two grade 5 girls, Natalie Fung and Kristen Chan from Vancouver Christian School. For our grade 5 Community Service Project, we decided to support B.C. Children's Hospital because after reading many miracle stories about children with diseases,we want to help kids have a healthier and brighter future. We will support B.C. Children's Hospital by raising money. How will we do that? Well, we will be doing a Mile-Swim-A-Thon, where we will swim 64 lengths non-stop at Hillcrest Community Centre.
Thank you for supporting our 1 Mile Swim-A-Thon!" - Natalie and Kristen
Special thanks to Percy Norman Swim Club (PNSC) for giving us a lane to do the Mile-Swim-A-Thon during practice time.
Every element that makes BC Children's Hospital so important to BC's kids would not be possible without the generosity of our supporters and friends. From the tiniest toy that puts a smile on a youngster's face to the groundbreaking pediatric research that's helping to find better treatments and cures for many devastating childhood diseases, your donation helps ensure that the most precious members of our society - our children - receive the best possible care.
On behalf of all of us - patients, parents, staff, and volunteers - from BC Children's Hospital, thank you for your generosity and for caring for our children and their future.
Thank-You Scroll
$25.00
From Daniel and Jaime

in Honour of Nat and Kris' Mile-Swim-a-thon

From Andrew Chan

in Support of Nat and Kris' Mile-Swim-a-thon

From Hubert Fung

in Support of Nat and Kris' Mile-Swim-a-thon

From Fiona Leong

in Support of Nat and Kris' Mile-Swim-a-thon

From Carmen Cheung

in Support of Nat and Kris' Mile-Swim-a-thon

From Darren Loos

in Support of Nat and Kris' Mile-Swim-a-thon

$20.00
From the Koo's

in Support of Nat and Kris' Mile-Swim-a-thon

From Maxine Fok

in Support of Nat and Kris' Mile-Swim-a-thon

From Maxwell Ho

in Support of Nat and Kris' Mile-Swim-a-thon

From Katelyn Chien

in Support of Nat and Kris' Mile-Swim-a-thon

From May Liu

in Support of Nat and Kris' Mile-Swim-a-thon

$50.00
From Mary De Boer

in Support of Nat and Kris' Mile-Swim-a-thon

From Sylvia Ma

in Support of Nat and Kris' Mile-Swim-a-thon

From Claire Chong

in Support of Nat and Kris' Mile-Swim-a-thon

From Kyle Perlstrom

in Support of Nat and Kris' Mile-Swim-a-thon

From Julie Kawa

in Support of Nat and Kris' Mile-Swim-a-thon

From Ming Bun Chan

in Support of Nat and Kris' Mile-Swim-a-thon

From KATELYN & SARA CROY

in Support of Nat and Kris' Mile-Swim-a-thon

From Jung Seok Lee

in Support of Nat and Kris' Mile-Swim-a-thon

From Ryan Bohm

in Support of

From Gwun Yee

in Support of

$25.00
From Elaine Ma

in Honour of Nat and Kris' Mile-Swim-a-thon

$25.00
From Joanna Ho

in Support of Nat and Kris' Mile-Swim-a-thon

$25.00
From Sebastian D'Amici

in Support of Nat and Kris' Mile-Swim-a-thon

From Judith Yan

in Support of Nat and Kris' Mile-Swim-a-thon

$25.00
From Christopher Paul

in Support of Nat and Kris' Mile-Swim-a-thon

From Jason Wong

in Support of Nat and Kris' Mile-Swim-a-thon

$100.00
From Clement Fung

in Support of Nat and Kris' Mile-Swim-a-thon

From Cissy Yee

in Support of Nat and Kris' Mile-Swim-a-thon

From Jason Wong

in Support of Nat and Kris' Mile-Swim-a-thon

From Mark Fok

in Support of

From Yin Fat Ma

in Support of Nat and Kris' Mile-Swim-a-thon

From The Chin Family

in Support of Nat and Kris' Mile-Swim-a-thon

From Fred Cooper

in Support of Nat and Kris' Mile-Swim-a-thon

From Leona Lam

in Support of Nat and Kris' Mile-Swim-a-thon

From Victor Chung

in Support of Nat and Kris' Mile-Swim-a-thon

From Tina Shum

in Support of Nat and Kris' Mile-Swim-a-thon

From Emily Fung

in Support of Nat and Kris' Mile-Swim-a-thon

From jaemin na

in Support of Nat and Kris' Mile-Swim-a-thon