Welcome to the Pie Throw Fundraising page of
Andrew Berryman (Worley)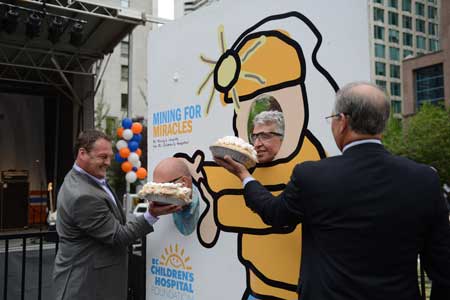 On May 23, 2019, I have the privilege of participating on behalf of Worley, in the Annual Mining for Miracles - Celebrity Pie Throw, in support of BC Children's Hospital Foundation.
Having two small children myself, this is a charity that is close to my heart because BC Children's Hospital exists to ensure every child in our province has the best chance at a healthy future.
You can support my fundraising efforts by making an online donation today. It is through the generosity of individuals and corporations in our mining community that we are able to positively impact the lives of children in BC.
On behalf of the children and families who benefit from your generosity, thank you for your support.
Thank-You Scroll
$50.00
From Benedict Duenas

in Support of Andrew Berryman

$100.00
From Rana Van Tuyl

in Support of Andrew Berryman

$100.00
From Alady Sukumar

in Support of Andrew Berryman

$50.00
From stephanie kromschoder

in Support of Andrew Berryman

$3,855.00
From Worley

in Support of Andrew Berryman

$100.00
From Anca Brincus

in Support of Andrew Berryman

$20.00
From Aurelie Leclair

in Support of Andrew Berryman

$100.00
From Ann Harris

in Support of Andrew Berryman

$500.00
From Andrew Berryman

in Support of Andrew Berryman

$50.00
From Coleman Yeung

in Support of Andrew Berryman

From Ken Doskotch

in Support of Andrew Berryman

From Tom Stokoe

in Support of Andrew Berryman

From Anonymous

in Support of Andrew Berryman

$200.00
From Chad Brown

in Support of Andrew Berryman

$100.00
From Sarah Yu

in Support of Andrew Berryman

$100.00
From Amir Javaadi

in Support of Andrew Berryman

$50.00
From Clayton Cunningham

in Support of Andrew Berryman

From Yanting Huang

in Support of Andrew Berryman

$25.00
From stephen kennedy

in Support of Andrew Berryman

$100.00
From Thomas Wacker

in Support of Andrew Berryman

$500.00
From Andrew Barr

in Support of Andrew Berryman

$100.00
From Harb Johal

in Support of Andrew Berryman

$100.00
From Adam Buckler

in Support of Andrew Berryman

$200.00
From Paul S

in Support of Andrew Berryman

$200.00
From Lyle Osberg

in Support of Andrew Berryman

From Rene Dijkstra

in Support of Andrew Berryman

$280.00
From Ken Armstrong

in Support of Andrew Berryman

$200.00
From Gord Ackerman

in Support of Andrew Berryman

$50.00
From Xeniya Chiprut

in Support of Andrew Berryman

$100.00
From Matthieu Dehamel

Andrew Berryman

$100.00
From Rene Bulle

in Support of Andrew Berryman

$250.00
From Dale Wright

in Support of Andrew Berryman

$200.00
From MICROMINE Ltd.

in Support of Andrew Berryman

$100.00
From Julie Johnstone

in Support of Andrew Berryman

$20.00
From Angie Darrell

in Support of Andrew Berryman

$6,000.00
From Worley (Jacobs)

in Support of Andrew Berryman