Welcome to the Fundraising page of
Whistler Alpine Meadows Ultra Marathon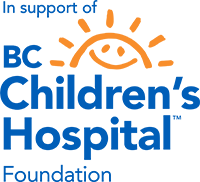 Every element that makes BC Children's Hospital so important to BC's kids would not be possible without the generosity of our supporters and friends. From the tiniest toy that puts a smile on a youngster's face to the groundbreaking pediatric research that's helping to find better treatments and cures for many devastating childhood diseases, so your donation helps ensure that the most precious members of our society - our children - receive the best possible care.
So, to help show support a proud and passionate team of fitness enthusiasts have gotten together to run this year's Whistler Alpine Meadows (WAM)!
The Event:
The WAM encompass all that Whistler and coastal British Columbia has to offer. Runners will be treated to expansive alpine meadows, raging waterfalls, blooming wildflowers, calving glaciers, dizzying suspension bridge crossings, pristine alpine tarns and over a dozen backcountry lakes, and that's not to mention the 360 degree panoramic mountain views as far as the eye can see.
And, yet, the Whistler mountains are unforgiving if the distance and elevation are disrespected. It will be painful. It will be tiring. And it will make us want to quit. But, it is nothing compared to the challenges the children of BC Hospital face every single day, which will be fresh of mind once the going gets tough.
So, here we are with our team taking part in the following races over the weekend of 21st-22nd September 2019:
110k runners kick off at 4am Saturday 21st and have a 30hr time cap to cover the distance, which includes 20,000ft of elevation (total ascent/descent):
55k runners kick off at 6am Sunday 22nd and have a 12.5hr time cap to cover the distance, which includes 9,200ft of elevation (total ascent/descent):

Stewart Wilkinson
Lee Hamilton
Damien Duport
Clementine Renaud
Brian Roche
Deborah Simons
Cian Scott

25k runners kick off at 8am on Saturday September 21st and have a 6.5hr time cap to cover the distance, which includes 2,400ft of elevation (total ascent/descent):
Learn more about the event here:
http://www.trailseries.ca/race/whistler-alpine-meadows/
On behalf of all of us - patients, parents, staff, and volunteers - from BC Children's Hospital, thank you for your generosity and for caring for our children and their future.
Thank-You Scroll
From Carol Phelan

in Support of

From Jordan Cheadle

in Support of Whistler Alpine Meadows Ultra Marathon

From Mark Westbrook

in Support of Whistler Alpine Meadows Ultra Marathon

From Nicole Roche

in Support of Whistler Alpine Meadows Ultra Marathon

From Jamie Conroy

in Support of Whistler Alpine Meadows Ultra Marathon

$50.00
From Jeff Schein

in Support of Whistler Alpine Meadows Ultra Marathon

$50.00
From Todd Patchell

in Support of Whistler Alpine Meadows Ultra Marathon

$15.00
From Aisling Martyn

in Support of Whistler Alpine Meadows Ultra Marathon

From Brian Curtin

in Support of Whistler Alpine Meadows Ultra Marathon

$30.00
From Scott Gallon

in Support of Stu long jog

$50.00
From Chris Dawe

in Support of Whistler Alpine Meadows Ultra Marathon

$25.00
From Kristi Millius

in Support of Whistler Alpine Meadows Ultra Marathon

$20.00
From Brian Gildea

in Support of Whistler Alpine Meadows Ultra Marathon

From Bita Firouzian

in Support of Whistler Alpine Meadows Ultra Marathon

From Steffan Carroll

in Support of

$50.00
From Bina McPhee

in Support of Whistler Alpine Meadows Ultra Marathon

From Lilya Jangirov

in Support of Whistler Alpine Meadows Ultra Marathon

$50.00
From Stella Tang

in Support of Whistler Alpine Meadows Ultra Marathon

$25.00
From Joshua Radcliffe

in Support of Whistler Alpine Meadows Ultra Marathon

$50.00
From Martin Parry

in Support of Whistler Alpine Meadows Ultra Marathon

$50.00
From Lindsay Jones

in Support of Whistler Alpine Meadows Ultra Marathon

$100.00
From Daniel Naesgaard

in Support of Stu at the Whistler Alpine Meadows Ultra Marathon

$25.00
From Peter Molenaar

in Support of Whistler Alpine Meadows Ultra Marathon

$50.00
From John Schmidt

in Support of Whistler Alpine Meadows Ultra Marathon

From Simon Mills

in Support of Whistler Alpine Meadows Ultra Marathon

$50.00
From menachem Shekhtman

in Support of Whistler Alpine Meadows Ultra Marathon

$25.00
From Madeleine Higgins

in Support of Brian RoacheWhistler Alpine Meadows Ultra Marathon

$30.00
From Orla Lennon

in Support of Whistler Alpine Meadows Ultra Marathon

From Christopher Kumar

in Support of Whistler Alpine Meadows Ultra Marathon

From Kimberley Hunter

in Support of Whistler Alpine Meadows Ultra Marathon

$100.00
From Robert Dodsworth

in Support of Whistler Alpine Meadows Ultra Marathon

$100.00
From Jim Alam

in Support of Whistler Alpine Meadows Ultra Marathon

$100.00
From Stewart Wilkinson

in Support of Whistler Alpine Meadows Ultra Marathon

$100.00
From Michael Straker

in Support of Whistler Alpine Meadows Ultra Marathon

$100.00
From Anonymous

in Support of Whistler Alpine Meadows Ultra Marathon